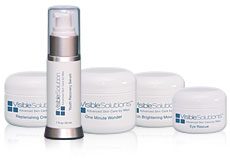 Visible Solutions Skin Care
Max International is now applying its anti-aging expertise to skin care with the Visible Solutions™ Skin Care System!
When combined with our impressive line of glutathione-enhancing supplements, Visible Solutions helps you look as good-and as young-as you feel.
System Components
One Minute Wonder™ - Gently exfoliates dull, dead skin and debris without grains or abrasives to uncover silky-smooth skin.

Youth Recovery Serum™ - Firms and smoothes your face and neck area giving you a youthful and revitalized look.

Skin Brightening Mousse™ - Brightens the appearance of skin and helps diminish the appearance of enlarged pores and uneven skin tone.

Replenishing Cream™ - Deeply moisturizes your skin and diminishes visible lines and wrinkles.

Eye Rescue™ - Hydrates the under-eye area and addresses the appearance of fine lines and dark circles. Can also be applied to the lips to help keep them soft and smooth.


Exclusive Skin Care Technology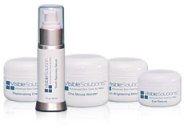 Our products are made from the best ingredients and contain no sulfates, surfactants, artificial color or fragrance. Each component of the Visible Solutions Skin Care System incorporates the proprietary Max Amino-Nutrient Complex™. This exclusive blend helps to naturally optimize collagen, protect moisture and raise hydration levels, increase and enhance elasticity and protect skin against free radicals.

It contains the following specialized ingredients:

Terra-Pure™ Aloe
The patented reverse osmosis processing of the Aloe in our products ensures that all the amino acids and vitamins, etc., retain their full efficacy. Just our Aloe alone, without any other ingredient, would give you collagen support. Additionally, this special Aloe base, when mixed with other ingredients in our products, ensures that these critical nutrients can penetrate your skin, delivering them where they are needed most.

Antarcticine®
A naturally derived glycol protein that helps to prevent dryness of the skin and also serves to protect the epidermis from extreme cold. Studies have shown that Antarcticine optimizes production of collagen I, collagen IV, and elastin.

Relistase™
An active peptide that enhances skin elasticity and tightness. It is especially targeted at mature skin with studies showing significant increases in elastin in as little as four weeks of regular use.

Lipochroman-6
A highly potent antioxidant that helps protect the skin from photo-aging. It is shown to be more effective than Resveratrol, Vitamin E and ferulic acid in protecting against oxidative stress. It has also been shown to have greater antioxidant power than Vitamin E and C, grape seed extract and other well-known antioxidants.

Independent User Group Studies
&nbsp
After using Visible Solutions for just 30 days:
81% saw a reduction in discoloration*
92% saw a reduction in fine lines and wrinkles*
94% saw improvement in texture*
95% said skin was more firm*
95% saw improvement in clarity*
100% saw improvement in hydration*
100% said skin was more radiant*
&nbsp
Independent clinical studies have shown:
44% reduction in wrinkle depth after 30 days*
128% increase in collagen I after 15 days*
31% increase in elastin after 15 days*
11.7% increase in elasticity after 4 weeks*
Call Toll Free - 1.877.577.2721

Visible Solutions - Supplement Facts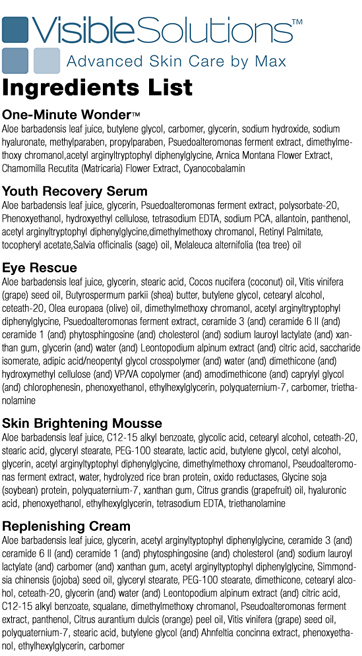 * Important Notice: These statements have not been evaluated by the Food and Drug Administration. These products are not intended for use in the treatment of any disease.
Antarcticine® and Relistase™ are trademarks or registered trademarks of Lipotec S.A. Terra-Pure™ is a trademark of Terry Laboratories, Inc