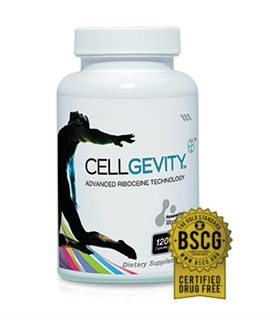 Cellgevity
The Ultimate in Glutathione Enhancement
Cellgevity features the proprietary RiboCeine technology, a special blend of D-Ribose and L-Cysteine, combined with an all-star collection of 12 complementary ingredients to more effectively enhance the function of glutathione within your body.
Over 98,000 scientific studies and articles on Glutathione are recorded in PubMed, the official U.S. Government library of medical research. Those articles reveal the remarkable role glutathione plays in the protection and function of every cell in the human body and the support of optimal health and function. They also show the terrible consequences of low glutathione levels, and how those lower levels accelerate the aging process and increase vulnerability to the issues of aging.
Feel Younger & Perform Stronger with Cellgevity
Cellgevity helps your body produce Glutathione
Benefits of Higher Glutathione Levels Include:
Have More Energy
Recover Faster From Exercise
Sleep Better
Have Greater Mental Clarity and Focus
Less Inflammation
Improved Joint Function
Have Better Immune Systems
Improve the Health and Function of Every Cell, Tissue and Organ in the Body
Give your body the advanced glutathione support it deserves with Cellgevity!
Cellgevity & Riboceine

Our bodies create glutathione to defend against violent attackers like free radicals, chemical toxins, heavy metals, and other influences that can negatively affect our overall health. Glutathione also works to regulate, recycle, and repair other antioxidants within your body. Unfortunately, As we age the levels of this important molecule are depleted by every-day trauma including physical and mental stress, poor diet, and lack of sleep.
Cellgevity, powered by exclusive RiboCeine technology, is the most effective way to help your cells produce glutathione. RiboCeine effectively protects and delivers the fragile cysteine molecule, enabling the cells to produce glutathione when they need it most.
Help Your Body Protect Itself with Cellgevity
Cellgevity is:
BSCG Certified Drug Free - Safe for Professional Use
Proven to enhance the natural production of glutathione by over 300%
Gluten Free
Melamine Free
HALAL Certified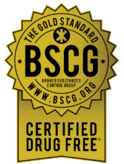 Cellgevity is BSCG Certified Drug Free, giving professional athletes and active individuals worldwide the confidence to use Cellgevity within competition.
Get the powerful, clean, and safe performance and recovery you need with Cellgevity.
Cellgevity Sports Pack Learn more
Created for Athletes and Active Individuals

Cellgevity - Supplement Facts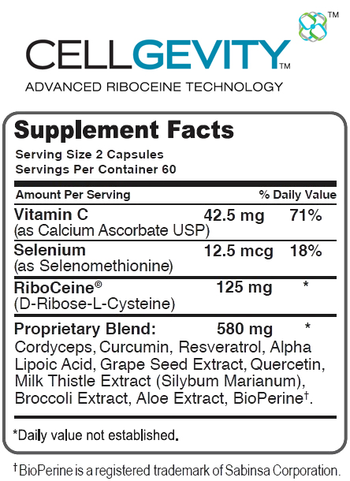 Toll Free: 1.877.577.2721
Cellgevity at below Wholesale prices.
Ask about our Loyalty pricing today.
* Important Notice: These statements have not been evaluated by the Food and Drug Administration. These products are not intended to diagnose, treat, cure, or prevent any disease.