MaxGXL® Sport
MaxGXL Sport carries the prestigious NSF Certified for Sport™ certification to ensure the product is free from substances on the banned substances list. Ideal for everyone from professional athletes to the average person, it contains the same ingredients as regular MaxGXL, only packaged using veggie caps and sealed in a convenient bottle.
The MaxGXL answer for everyone- from the average person to professional athlete.
What does NSF Certified for Sport™ mean for MaxGXL®?
NSF International is a not-for-profit, non-governmental organization that was founded in 1944 as the National Sanitation Foundation. NSF provides public health and safety related information to concerned consumers around the world as well as providing services to manufacturers in over 100 different countries. The NSF logo represents that a product has been tested to verify label claims as well as to ensure it is free of such contaminants as heavy metals, microbiologicals and aflatoxins. However, the standard NSF mark is not the same as the NSF Certified for Sport™ mark. The NSF's Certified for Sport program performs the same screening and verification as the standard certification program with the addition of in-depth screenings that ensure the product does not contain banned or prohibited substances, thus earning the much more stringent NSF Certified for Sport™ certification. The NSF Certified For Sport™ program performs independent screening tests for over 130 banned metabolites.
NSF Certified for Sport™ is the world's leading sports certification.

This NSF independent review is utilized by Major League Baseball, the MLB Player's Association, the NFL, the NFL Players Association, the PGA, LPGA and the CCES (Canadian Center for Ethics in Sport). These organizations have all chosen NSF's Certified for Sport™ program to help verify the products their athletes use are safe and free of banned substances. Only NSF offers a comprehensive program designed for participating manufacturers and their products that includes product testing for banned substances, label content confirmation, formulation and label review, comprehensive and multi-phase audits of the manufacturing facility, supplier inspections as well as ongoing monitoring in line with substance prohibitive lists from WADA, NFL, and MLB.
Questions
How is MaxGXL Sport different from standard MaxGXL®?

MaxGXL Sport is made with the exact same ingredients as MaxGXL, but goes through a strict manufacturing and testing process to meet NSF Certified for Sport™ certification. This means that NSF certifies that the product is free of any and all materials that are found on the banned substances list giving athletes peace of mind when taking MaxGXL.
What is the cost of MaxGXL Sport?

MaxGXL Sport costs exactly the same as regular MaxGXL, $69 wholesale and $85 retail.
Why is Max International offering MaxGXL Sport?

MaxGXL Sport represents Max's commitment to provide best in class products. NSF Certified for Sport certification proves that MaxGXL can stand up to even the most rigorous of independent testing standards. Athletes of all types have reported benefits from taking MaxGXL and now they can take MaxGXL Sport knowing the product is not only effective, but also certified to be free of banned substances.
Why is MaxGXL Sport in a bottle and made with vegetable capsules?

In order to meet the strict guidelines set forth by the NSF to meet Sport Certification, certain changes to the packaging were needed as different packaging allows for more accurate tracking and testing. This in no way affects how your body uses the actual ingredients to make glutathione
Does MaxGXL Sport include different ingredients from MaxGXL?

No, they use the exact same ingredients, only the packaging is different
Would non-athletes have any benefits of using MaxGXL Sport?

Everyone from the average person to the professional athlete can enjoy the benefits of MaxGXL Sport.
MaxGXL® - Product Video
MaxGXL® - Product Info
MaxGXL® - Supplement Facts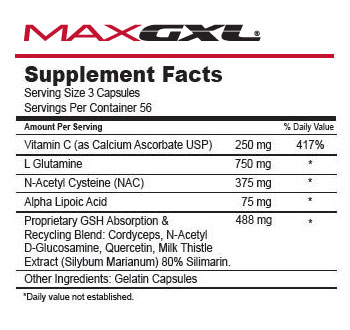 * Important Notice: These statements have not been evaluated by the Food and Drug Administration. These products are not intended for use in the treatment of any disease.