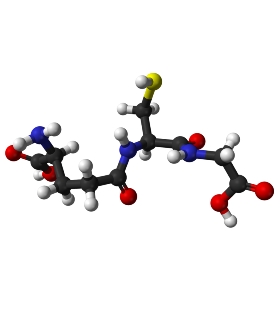 What is Glutathione?
Glutathione is the body's master antioxidant and the best kept secret to maintaining health. Theodore Hersh, M.D., Harvard Graduate, Professor of Medicine, Emeritus, Emory University
Glutathione (GSH) is a small protein produced naturally in our cells when certain required elements are present. It functions both as an antioxidant and an antitoxin and is a major defense system against illness and aging. Our glutathione level actually indicates our state of health and can predict longevity. Although there are more than 60,000 published papers on the beneficial effects of glutathione replacement, it is still largely ignored by mainstream medicine. In the near future the importance of glutathione will be widely recognized because it has the ability to boost the immune system and fight off the damage of free radicals on the cells.
Glutathione is a powerful antioxidant and detoxifies the harmful components in the liver, where it is then excreted through the bile. The liver also excretes glutathione directly into the bloodstream where it is used to maintain the integrity of red blood cells, as well as protecting white blood cells.
Glutathione is also found in the lungs and intestinal tract where it assists in carbohydrate metabolism as well as breaking down oxidized fats. It is also used to prevent oxidative stress in most cells and helps to trap free radicals that can damage DNA and RNA. Glutathione (GSH) also plays major roles in drug metabolism, calcium metabolism, blood platelet and membrane functions.
Glutathione has been shown to:
slow down the aging process
detoxify and improve liver function
strengthen the immune system
reduce the chances of developing cancer
improve mental functions
increase energy
improve heart and lung function
and more!

Why Supplement with MaxGXL - Click here

* Important Notice: These statements have not been evaluated by the Food and Drug Administration. These products are not intended for use in the treatment of any disease.