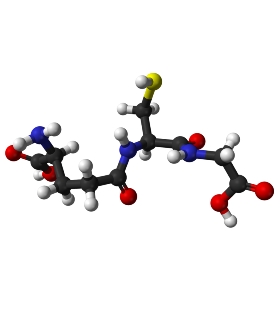 What is Glutathione?
Glutathione is the body's master antioxidant and the best kept secret to maintaining health. Theodore Hersh, M.D., Harvard Graduate, Professor of Medicine, Emeritus, Emory University
Glutathione (GSH) is a small protein produced naturally in our cells when certain required elements are present. It functions both as an antioxidant and an antitoxin and is a major defense system against illness and aging. Our glutathione level actually indicates our state of health and can predict longevity.
Over 100,000 scientific studies and articles on glutathione are recorded in PubMed, the official U.S. Government library of medical research. Those articles reveal the remarkable role glutathione plays in the protection and function of every cell, organ, and tissue in the human body and the support of optimal health and function. They also show the terrible consequences of low glutathione levels, and how those lower levels accelerate the aging process and increase vulnerability to the issues of aging.
Body's use of Glutathione
The cells in your intestinal tract use glutathione to try to eliminate the chemical preservatives, pesticides and countless other toxins you ingest before they are transported throughout your body. The liver cells use glutathione as their detergent to detoxify your blood. Your eye and skin cells use glutathione to protect themselves against radiation. Glutathione helps your body defend against oxidative stress, which has been associated with more than 74 major diseases and disorders. Simply put, without glutathione, oxygen-based life on earth would be impossible.
Glutathione has been shown to:
slow down the aging process
detoxify and improve liver function
strengthen the immune system
reduce the chances of developing cancer
improve mental functions
increase energy
improve heart and lung function
and more!

Why Supplement with Max Products? Click here
Dr. Oz speaks about Glutathione
* Important Notice: These statements have not been evaluated by the Food and Drug Administration. These products are not intended for use in the treatment of any disease.