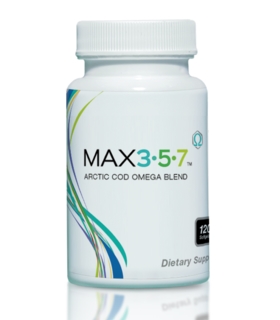 Max357
Artic Cod Omega Blend
An exclusive blend of essential Omega oils 3, 5 and 7 means more benefits for your body.
Omega oil, or fatty acids, provide proven benefits that support heart health, cognition, metabolic function, and more. Max 3-5-7 is an exclusive blend of Omega-rich fish oils that complement each other, providing your body the resources it requires to function as well as it should. MAX 3-5-7 is specially made from cod found in the pristine waters of Norway. Quick processing on site at the source limits oxidation and helps maintain the integrity and high quality of the cod oil used in Max's proprietary Omega-rich 3-5-7 blend.
Max357
Keep your body running optimally with the benefits of Omega oils:
Promotes healthy heart and vascular function
Supports healthy metabolic breakdown of fat and cholesterol
Helps sustain healthy function of brain, nerve and eye cells

Additional Benefits:
Assists the body in the regulation of blood sugar levels
Provides anti-aging benefits for skin, hair and nails
Certified to be eco-friendly, sustainable and freshly sourced
Supports cellular health and provides key nutrients for cell signaling
Limited oxidation and special formula gives a pleasant and mild taste
Max357 Video
Max357 - Supplement Facts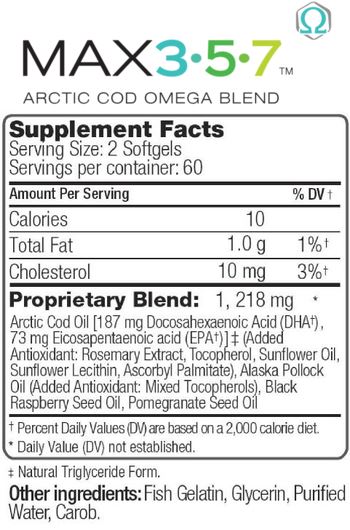 Toll Free: 1.877.577.2721
Max357 at below Wholesale prices.
Ask about our Loyalty pricing today.
* Important Notice: These statements have not been evaluated by the Food and Drug Administration. These products are not intended to diagnose, treat, cure, or prevent any disease.